Journey Through Time Burrungkuy (Nourlangie) Rock Art Tour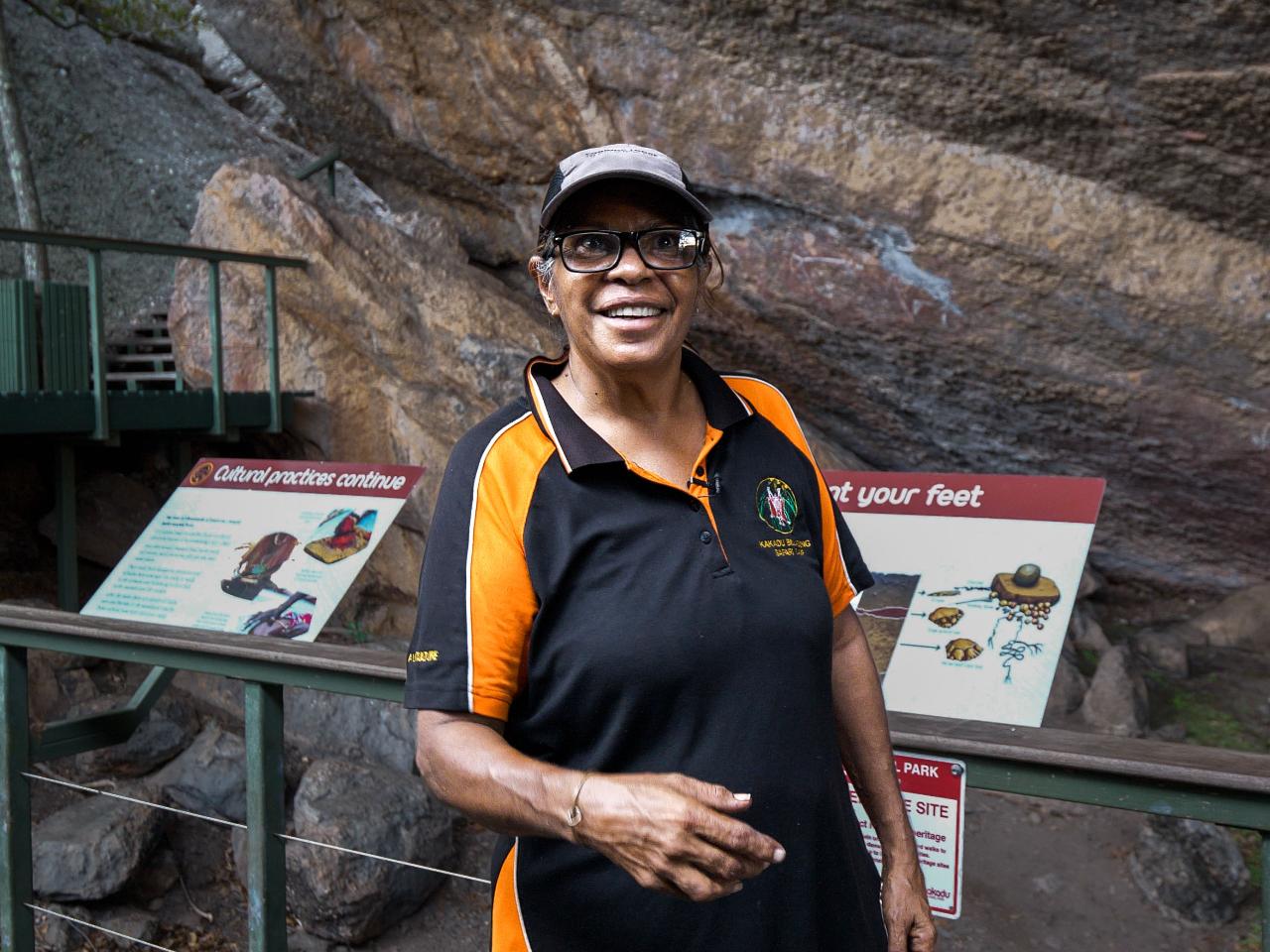 Duration: 110 Minutes (approx.)
Location: Kakadu, NT
Product code: KBSC-NT
Experience the ancient stories and cultural significance of this sacred site on our Nourlangie (Burrungkuy) Rock Art Tour. Led by local Murrumburr clan and family guides, this 1.45-hour tour takes you on a journey through time to discover the rich history and stories told through the rock art at the Nourlangie (Burrungkuy) site.
As you explore the stunning landscape and marvel at the intricate and beautifully preserved rock art, your guide will share their knowledge and expertise on the cultural and spiritual significance of the site. You'll have the opportunity to ask questions and learn about the ancient stories and traditions of the Kakadu region, as well as the contemporary significance of the rock art to the local community.
But the Nourlangie Rock Art Tour is about more than just learning; it's about immersing yourself in the rich culture and history of Kakadu. You'll be able to connect with the land and the stories it holds in a way that is authentic and meaningful. With a local as your guide, you'll be able to get a unique and personal perspective on the site and its significance.
Join us on this exciting and educational journey through time at the Nourlangie Rock Art site. It's an experience you won't forget.
Package Includes:
1.5 Hour Guided Tour of the Nourlangie (Burrungkuy) Site
Discounts

Children 7 and Under - Free with a paying adult
Children aged 8 - 17 - 50% Adult Price
Senior Concession Card Holders - 20% Adult Price
Welcome to Kakadu Billabong Safari Camp on Murrumburr Clan Country
Our experiences are dedicated to sharing the rich cultural knowledge of the local indigenous (Bininj/Mungguy) people and providing you with an authentic connection to our ways of life.
Feel the radiant warmth of sunlight on your skin, the harmony of insect life pulsating from the long grass and the coarse billabong sand between your toes. Taste the purity of the remote bush air as you slow down with a deep breath.
Explore the billabongs, wetlands and sacred rock art sites of Kakadu National Park, led by local guides who are passionate about sharing the stories and secrets of this breathtaking region.
Find yourself immersed in imagination as your guide takes you as deep as your questions can go. Try authentic seasonal bush tucker, learn traditional practices like weaving and the making of instruments and tools. Craft your own item to take home from your adventure.
Leave your worries at home and connect with nature in an eco-friendly way, where preserving the earth is a way of life, not just a goal. Our eco-friendly camp expands on our harmony with the earth and nature, while ensuring you enjoy your experience in comfort.
We have a very limited number of packages available for 2023 so be sure to Book Now to secure your experience